Beautiful Smiles For A Lifetime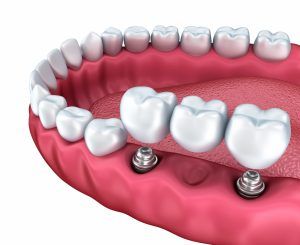 A mini implant consists of a miniature sized titanium implant that acts like the root of your tooth. On the top of the implant sits a retaining fixture that snaps into a corresponding fixture on your denture. The result is a more comfortable, stable denture that enables you to enjoy life without worrying about your teeth. Mini dental implants are suitable for long-term use.
How are mini implants different from ordinary sized implants?
With a regular-sized dental implant, there needs to be a certain amount of bone structure available to place the implant. With mini implants, less space is needed, allowing the use of a site that has less than adequate bone.
Placing mini implants is also often simpler and less time-intensive than placing full-sized implants. Full-sized implants generally require several months of healing before they can reliably support dental restorations, while mini implants can often support a denture right away.
The procedure for placing mini implants is usually simple and relatively pain-free, and the recovery time is often just a day or two. Modifications to the denture are made on the same day the implants are placed, so you can begin wearing it with your new implants right away.
Dental Implants At Our Cheyenne Office
Brookside Dental Care possesses advanced 3D dental software that allows us to closely evaluate bone quality and location when determining the best course of action for implants. We work closely with patients from the initial consultation until well-after the implants are installed to ensure that the teeth are clean and clear of any harmful infections. If you are considering dental implants, schedule an appointment at our Cheyenne office and see if mini implants are a good fit for you!
Contact Us Today!
Do not fill this form out if you're a solicitor.